Ceux qui vivent, vivent des morts/Those that live, live from the dead./Los que viven, viven de los muertos/Azok akik élnek, a hullákból élnek. Antonin Artaud
I have a particular relationship to the Shoah that travels with me through time… but what does it mean "to remember"?
Replacing the word "prayer" by the word "remembering," I have transposed Rabbi Abraham Joshua Heschel's warning:
Remembering is meaningless unless it is subversive…
The past is our present which is also our future; when we divide time up into neat categories, we forget how evolution takes place.
Everything is always now, both the past and the future & Hiroshima and Nagasaki's bombs are still falling.

There are a variety of Holocaust Memorial Days. For instance, one is set up by the UN on the anniversary of the liberation of Auschwitz on January 27 1945, and the Israeli/Jewish Yom HaShoah takes place on the 27th of Nisan (related both to the Warsaw Ghetto Uprising and to Israel Independence Day). One chooses how/what to remember…
As per my "The Holocaust in 1,000 Years" presentation, it is clear that the future of that past is here to stay.
Everyone realizes that the number of eyewitnesses is dramatically decreasing and that the Holocaust, the Shoah has now become history, a malleable entity prone to erosion, co-optation, and politics.
Elsewhere I have singled out Jean Améry and Primo Levi's writings.
Here I want to single out some pieces of writing reflecting upon, as per Alvin Rosenfeld's book title, The End of the Holocaust.

First, from Ruth Klüger's Still Alive: A Holocaust Girlhood Remembered — a few lines:

The camps are part of a worldwide museum culture of the Shoah, nowhere more evident than in Germany, where every citizen, not to mention every politician who wants to display his ethical credentials, feels the need to take pictures at these shrines or, even better, have his picture taken.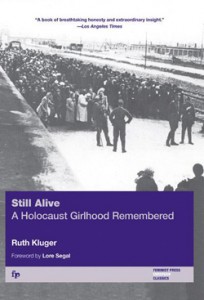 In our hearts we all know that some aspects of the Shoah have been repeated elsewhere, today and yesterday, and will return in new guise tomorrow; and the camps, too, were only imitations […] of what had occurred the day before yesterday.
Perhaps we are afraid they [the ghosts] may leave the camps, and so we insist that their deaths were unique and must not be compared to any other losses or atrocities. Never again shall there be such a crime.
The museum culture of the camp sites has been formed by the vagaries and neuroses of our unsorted, collective memory. It is based on a profound superstition, that is, on the belief that the ghosts can be met and kept in their place, where the living ceased to breathe. Or rather, not a profound, but a shallow superstition.
A visitor who feels moved, even if it is only the kind of feeling that a haunted house conveys will be proud of these stirrings of humanity. And so the visitor monitors his reactions, examines his emotions, admires his own sensibility, or in other words, turns sentimental… turning away from an ostensible object and towards the subjective observer, that is, towards oneself. It means looking into a mirror instead of reality.
Ruth Klüger introduced by Herbert Marcuse's grandson, Harold Marcuse:

Second, Ron Rosenbaum from Slate, author of Explaining Hitler & How the End Begins – with some excerpts from Faustian Bargain in The Tablet:
[about Alvin Rosenfeld's book]
The real "end of the Holocaust," he argues, is the transformation of it into a lesson about the "triumph of the human spirit" or some such affirmation… Yes, we've had enough, as Rosenfeld points out, of museums that cumulatively obscure memory in a fog of well-meaning but misleading inspirational brotherhood-of-man rhetoric. …
We've had enough of films like the execrable Oscar-winning Life Is Beautiful and the well-intentioned but misguided Schindler's List, with its sad lack of self-awareness that a happy ending, celebrating a Christian rescuer and some lucky Jewish survivors, is woefully off base.
We've had enough of phony-memoir love stories, and we've had enough of the way a genuine tragic heroine and victim of Nazi death camps like Anne Frank is mendaciously turned into a spokeswoman for the "goodnesss of man." …
And the fact that it was not just one man but an entire continent that enthusiastically pitched in or stood by while 6 million were murdered: Doesn't that call for us to spend a little time re-thinking what we still reverently speak of as "European civilization"? Or to investigate the roots of that European hatred? How much weight do the Holocaust museums give to the two millennia of Christian Jew-hatred, murderous pogroms, blood libels, and other degradations? Or do they prefer to focus on "righteous gentiles" in order to avoid offending their gentile hosts? …
"Before Auschwitz," [Nobel prize winner] Kertesz writes, "Auschwitz was unimaginable. That is no longer so today. Because Auschwitz in fact occurred, it has now been established in our imaginations as a firm possibility. What we are able to imagine, especially because it once was, can be again."…
it cannot be denied that the use of the word "Holocaust"—a Greek-derived word for a religious ritual, a sacrificial offering to the gods that is wholly burnt to ashes—is a lamentable formulation that is an attempt to vaguely sacralize and rationalize mass murder. It gives to the frenzied bloodthirsty slaughter an aura of dignity, religiosity—bestowed not on the victims but to the slaughterers. …
You are aware I'm sure of the pronouncement of a former chief rabbi of the Sephardic Shas movement in Israel, who called the murder of 6 million Jews God's righteous punishment of secularized European Jews for straying from Orthodoxy into modernism. That Hitler was not evil but rather "the rod of God's anger." But even for those believers who don't stoop to such obscenity there seems a necessity to absolve God of Hitler. To those who still pray and praise Him as the living protector of His beloved Jewish people: Was He just a little busy during those six years from 1939 to 1945? Other things on His plate? Or it was "part of God's plan" to—what plan was that exactly? To establish the State of Israel? What an ingenious plan! Didn't He have any others on hand?
The question remains for believers who still offer up those prayers to the God who is their shepherd: Where was God during those years? And please don't tell me—in the latest "sophisticated" rationalization theodicy, the one you hear from very modern rabbis—that "God was in the camps," in every act of goodness and self-sacrifice by the inmates there. It's a formulation that takes from the brave desperate inmates the credit they deserve for their acts and gives it to Someone who was not there. Wouldn't it have been better if God had been in the Reich Chancellery in Berlin, slitting the throats of Hitler, Himmler, and Heydrich? What an inglorious bastard He would have been.
Sometimes I think the Jewish people who still pray to this God, praising Him for all He's done for us, have acceded to a kind of Stockholm syndrome in which they will find any excuse for their heavenly captor's acts or lack thereof.  …
Why not a Cambodian genocide museum? In what ways are the Cambodian, the Armenian, and the Rwandan genocides similar and different from the Nazi genocide?

---
---
RECENT RELATED NEWS

:
---
---
From Israel HaYom
(an excerpt)
New excavations shed light on Sobibor death camp
The Nazis and their collaborators systematically exterminated some 250,000 Jews in the Sobibor death camp in Poland between April 1942 and Oct. 1943. A recent excavation has recently provided a silent testimony to the mass killing, some 70 years after the perpetrators tried to cover their tracks by razing the site to its core and planting what was to become a thick forest. Their decision was prompted by a prisoners' revolt.
Archeologists Yoram Haimi and Wojciech Mazurek, from Israel and Poland respectively, have recently discovered nine open-air cremation pits as well as a cabin that housed Jews who were used for slave labor. Some 1.6 meters (about 5 feet) below the floor, a man-made tunnel was unearthed. As it led toward the barbed wire surrounding the camp, the excavators believe it was used as an escape route.
Another ID was found near the ramp used by the prisoners who descended the transport trains. It bears the name Lea Judith de la Penha, a girl of Portuguese descent who was transported to the camp with her father David and her mother Judith in July 1943, also from the Netherlands."
Haimi said that some of the human bones in the mass graves did not undergo cremation. "During our recent excavations, we found a grave with six skeletons of people who had been shot in the head. They were buried with their clothes on. Over time, only their buttons and their boots would remain." He said he believes these were Jews who had been transferred from Treblinka, another death camp, and then executed. Nearby, excavators found hair that had been sheared from women before they were gassed.
Yoram Haimi's excavation – Flash video:

Unearthing Sobibor by Ben Shani  – Flash video – through UVDA/FACT:

---
From the yellow star worn by Denmark's King Christian X to the flight of Danish Jews," the Danish rescue of its Jews was NOT as it is remembered – Alexander Bodin Saphir in The Tablet.
---
---
Irving Milchberg, who as a plucky Jewish street urchin escaped transport to concentration camps three times and sold cigarettes to Nazis in the heart of occupied Warsaw while smuggling guns and food to resistance fighters, died on Sunday in Toronto. He was 86.
Mr. Milchberg's improbable saga was chronicled in a 1962 memoir by a Holocaust survivor, Joseph Ziemian, called "The Cigarette Sellers of Three Crosses Square." The square was in the heart of a Warsaw district that German authorities had taken over. A nearby Y.M.C.A. had become a barracks for SS troops, another building was a German gendarmerie and a third building housed Hungarian soldiers collaborating with the Germans. A Gestapo secret police office was nearby.
The square itself was bustling and noisy, and much of the racket was contributed by about 14 cigarette sellers, most of whom were orphaned boys and girls hiding their Jewish identities and sleeping either on the streets, in cemeteries or with nervously accommodating Polish families.
For a year and a half, Mr. Milchberg and the other children hustled, sometimes fighting among themselves over customers, who included not only Poles but also the hundreds of Germans who could shoot them on the spot if they discovered they were Jewish. The fact that Mr. Milchberg had sandy hair and blue eyes made it easier for him to pass as a Polish gentile.
"This group of Jewish children, wandering around under the very noses of a thousand policemen, gendarmes, Gestapo men and ordinary spies, constituted an unexplained and inexplicable phenomenon," Mr. Ziemian wrote.
Mr. Milchberg, who had taken the Polish name Henrik Rozowski but was known by the nickname Bull, was a leader of the group.
Born Ignac Milchberg on Sept. 15, 1927, into a Warsaw housewares merchant's family, he saw his fairly comfortable world begin to crumble after the Nazi invasion in September 1939 and the walling off of a Jewish ghetto about six months later. The family was assigned to a room over an abandoned grocery store, and Ignac and his father were sent to work in a lumberyard outside the ghetto, sometimes bartering for food that they would sneak back.
In 1942, his father, while on the work detail, was killed by a Gestapo officer who found him hiding bread, then ordered him to run before shooting him in the back. Ignac, who had been working nearby, managed to slip back into the ghetto to bring food to his mother. When he returned, the body had already been taken to a mass grave.
One day he was seized in the street and taken to the Umschlagplatz, where Jews were put aboard trains to the Treblinka death camp. But during the night he scaled a fence, fled and returned to the ghetto. There he encountered an empty apartment. His mother and three sisters had been sent to Treblinka.
He made it out to the Aryan side and joined another work detail, but those workers, too, were taken at gunpoint to the Umschlagplatz and put aboard a train. When the train was stalled, Mr. Milchberg managed to break the bars of a car window and scramble out, roll into a ditch and flee.
"To tell you the truth, I never thought much," Mr. Milchberg said in a 2013 interview, trying to explain his daring resourcefulness. "If I had to do something, I did it. I didn't have time to analyze it."
He took a series of jobs that allowed him to move between the Jewish ghetto and the outside world, and he smuggled in food. While they were loading coal for a railway, his mother's brother, the family's only other survivor, put him in touch with rebel fighters. Not yet 16, Mr. Milchberg, according to the Ziemian memoir, smuggled guns to the ghetto in hollowed loaves, twice by spiriting through the sewers.
For several weeks in April and May 1943, as the last remnants of the ghetto were being "liquidated," the fighters, armed with guns, grenades and firebombs, staged a quixotic revolt in what became known as the Warsaw Ghetto Uprising, a milestone of Jewish resistance. Mr. Milchberg, who had visited his uncle for Passover but did not actually fight in the uprising, was rounded up and put aboard a train to the Poniatowa camp. But when the group was switched to another train, he mingled with a crowd of Polish boys selling water and escaped.
He made it back to Warsaw's Aryan side, but he badly injured his leg while running from a gendarme. He managed to persuade a Polish doctor he had known before the war to treat him. He ran into some youths he had met before, who were now hanging out with the cigarette sellers of Three Crosses Square, and joined the clique. The boys had nicknames like Conky, Hoppy, Toothy and Frenchy.
According to Mr. Milchberg's son, surviving meant balancing "extreme fear and extreme hubris." And indeed, some boys perished. The boy known as Frenchy was flattered by the attention of an SS man, thinking that might be an advantage, but for reasons they never learned, Frenchy was taken to the Gestapo and never heard from. Fearing that Frenchy might expose them all, the cigarette sellers scattered and went their own ways until the Soviet Army liberated the city.
In 1945, Mr. Milchberg made his way to Czechoslovakia, then Austria, then to a camp for displaced people in occupied Germany, where he learned watchmaking, his lifelong occupation. In 1947 Canada allowed 1,000 children to immigrate, and he became one of three cigarette sellers who settled there, while most went to Israel.
He ended up in Niagara Falls, where he opened his own jewelry and watch business. In 1953 he met his wife, Renee, who had survived the war because an aunt placed her in a Russian orphanage. She had come to Niagara Falls as a tourist.
In addition to their son, Mr. Milchberg is survived by a daughter, Anne, and three grandchildren.
In old age, Mr. Milchberg wound up in Toronto, in a neighborhood of survivors who met regularly over tea or coffee in a courtyard and traded jokes and stories of the war.
In 1993, he took a trip to Poland with his son for the 50th anniversary of the Warsaw Ghetto Uprising and visited Treblinka.
"He completely broke down," his son said. "I'd never seen him do that before."