These lists are most temperamental: ultimately we are lived and know nothing about what moves us.
Émile Zola who taught me much about gritty realism, Victor Hugo whose graphic work, writing and political life were a dizzying and courageous 19th century presence, and Francisco Goya, through his actual paintings (not the reproductions) are both prestigious and  ominous messages in time… are nowhere to be found below!
Even if everything gets dated too easily, "at this time,"
I would also highly recommend Arne Naess (Deep-Ecology), Edgar Morin (Complexity), Yuval Noah Harari (Macro-History),  and the recently deceased, François Roustang ("Being in Place")
as  rich and resounding voices.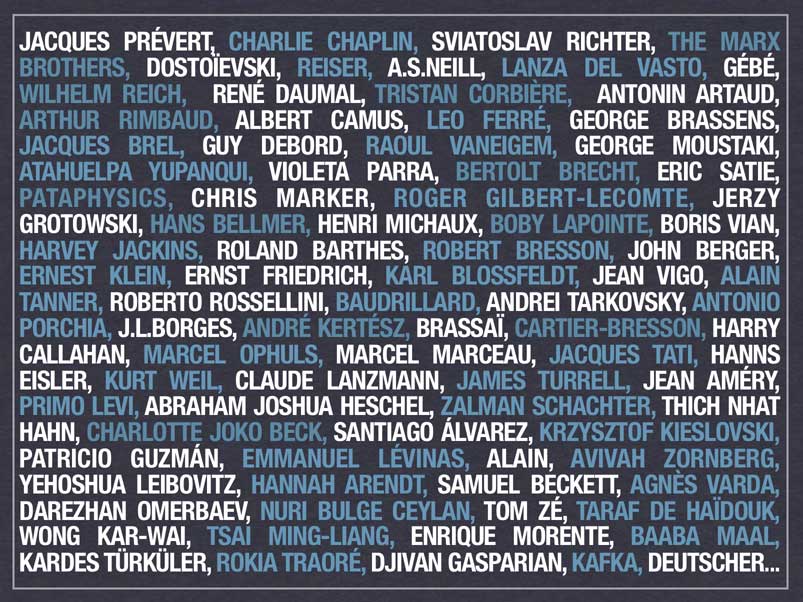 IN ORDER TO LOVE SOMETHING — YOU HAVE TO  HAVE SEEN IT OR HEARD IT FOR A LONG TIME — YOU BUNCH OF IDIOTS —Francis Picabia (+Breton)
Key people who will open doors, if you let them… (besides family and friends)
[These lists below  were created many years ago.]

The writers
Antonin Artaud with the Theater and its Double, and most of his other writings
Roland Barthes for his Mythologies, and his humane humor.
Bertolt Brecht writings on theater (Brecht on Theater,Willett ed.), especially his verfremdung/alienation principle
René Daumal with his group Le Grand Jeu, his books Mont Analogue (Mount Analogue), and Le contre-ciel, and his ties to the…
College of Pataphysics (the Science of Imaginary Solutions)
Emmanuel Levinas for his openings on the face, and the Talmudic text
Henri Michaux for Plume, his writings/scribblings and his portrait on Mt. Joly
Antonio Porchia's frozen aphorisms, Voces/Voices

The filmmakers
Robert Bresson and his Pickpocket, Au Hazard Balthazar, Four Nights of a Dreamer, and his aphorisms in Notes sur le Cinématographe
Bruce Conner and Peter Kubelka, master alchemists of the cinema
Wojciech Has' Saragossa Manuscript, based on Jan Potocki's book
Chris Marker, when he is not too fixated on the face of a woman, all of it… from Les Statues Meurent Aussi (with Resnais) to Sunless, La Jetée, and The Last Bolshevik
Roberto Rossellini with his neo-realist cinema, but more specifically his later works, the so-called historical films, and his writings on education and film
Masahiro Shinoda's Pale Flower and Double Suicide
Dimitri Kirsanov's Ménilmontant with Nadia Sibirskaia
This list of my 10 Best Films (expanded here to 50) should be added (when asked by Milos Stehlik of Facets for my ten all time favorites, I cheated and gave him eleven titles):
La Jetée

by Chris Marker

Ménilmontant

by Dmitry Kirsanov

Shoah

by Claude Lanzmann

The Saragossa Manuscript

by Wojciech Has

Pickpocket

by Robert Bresson

Playtime

by Jacques Tati

L'Amour à Mort

by Alain Resnais

Hotel Terminus

by Marcel Ophuls

The "historical" films of Roberto Rossellini (you could start with Rise to Power of Louis XIV)

Warning Shadows

by Arthur Robison

The Gleaners and I

by Agnès Varda (don't miss the sequel on the DVD)

The others, practical and impractical seekers
A.S. Neill and Summerhill, a visionary school started in 1921 and still running – All crimes, all hatreds, all wars can be reduced to unhappiness.
U.G. Krishnamurti (not the famous one) – the anti-guru
Arne Naess, the founder of Deep-Ecology; why when the harbor is visibly polluted already too late.
Alan Watts – a unique East-West communicator for The Cosmic Joke.
Augusto Boal with his invisible theater and his theater-forum
Rabbi Abraham Joshua Heschel 's writings, especially the last anthology, Moral Grandeur and Spiritual Audacity
Harvey Jackins, for the quiet revolution of Re-evaluation Co-counseling
The Situationists, for their creative ways to escape our co-optation, with Guy Debord' Society of the Spectacle and Raoul Vaneigem's Revolution of Everyday Life (Traité de Savoir-Vivre à l'Usage des Jeunes Générations) – a tribute should be given here though to Günther Anders
Rabbi Zalman Schachter-Shalomi and his mastery at linking times, places and traditions

The list is endless and, besides the names above, includes

Arthur Rimbaud, from his explosion of words to his silence
John Heartfield for his sharp scissors and mind
James Turrell, his ganzfeld and desire "to see the seeing," one of the very few who looks beyond
Jean-Marie Le Clézio for his l'Extase Matérielle (Material Ecstasy) exhausting the power of words to describe
Deep Ecology & Arne Naess for a way to have ecological concerns affecting one's entire being and actions, away from reformist formulas
Thich Nhat Hahn, a rare individual who follows his rigorous compassionate logic to the end
Charlotte Joko Beck, the late founder of the Ordinary Mind Zen School in San Diego, California
& in no particular order:
Andrei Tarkovsky, Hannah Arendt, Jacques Tati, Karl Blossfeldt, Hanns Eisler, Wols, André Kertész, Henri Cartier-Bresson, Juhani Pallasmaa, Wong Kar-Wai, Avivah Zornberg, Jean Améry, Günther Anders, Sander Gilman, Frederic Grunfeld's Prophets Without Honor, David Meisel, Yehoshua Leibowitz, André Chouraqui, Boby Lapointe, Eric von Stroheim, Hugues LeBars, Krzysztof Kieslowski, Jorge Luis Borges, Antonio Porchia, Franz Kafka, Violeta Parra, Atahualpa Yupanqui, Santiago Álvarez, Les Frères Jacques, Raymond Queneau, Georges Brassens, Rokia Traoré, Baaba Maal, Astor Piazzola, Tom Zé, Invisible Theater, Jerzy Grotowski, Alain, Alain Resnais, Edgar Morin, Agnès Jaoui, Agnès Varda, Roland Topor, Alejandro Jodorowski, Céline, Attila Jozsef, Terry Riley, Kocani Orkestar, Helen and Scott Nearing, John Berger, U.G. Krishnamurti (not the famous one), Ouspensky's The Strange Life of Ivan Osokin, Aribert Munzner, Modigliani, Soutine, Suzanne Lacy, Robert Cahen, Patrick Bokanowki, Jean Baudrillard, Alan Watts, Found Photos by Dick Jewell, Claude Lanzmann (with Shoah and Sobibor), Abraham Burg, Léo Ferré, Sviatoslav Richter, Fréderic Chopin, Omar Faruk Tekbilek, Erik Satie, John Cage, Accordion Tribe, Kudsi Erguner, Djivan Gasparyan, Enrique Morente, Sundanese Music, Yair Dalal, Masaccio, Giotto, Vermeer, Rembrandt, Piranesi, Kardes Türküler, Martin Buber, Edgar Morin, Marcel Ophuls, Anna Rosmus, Marcel Rayman, Michel Leiris, Cinema Novo & Nelson Pereira dos Santos, Glauber Rocha, Ruy Guerra, Fernando Solanas and Octavio Getino, Don McCullin, Ernst Friedrich, Benjamin Ferencz, Pierre Goldman, Frantz Fanon…
---
And a list of books in no particular order:
Mount Analogue by René Daumal
Don't think of an Elephant by Georges Lakoff
Is it painful to think? By David Rothenberg (conversations with Arne Naess)

Henri Michaux's Writings/Works (there is a thick compilation in English)

Notes on Cinematography by Robert Bresson
The Theater and its Double by Antonin Artaud
Paroles by Jacques Prévert (Ferlinghetti did a translation, inexpensive)
Voices/Voces by Porchia
At the Mind's Limit by Jean Améry
Nine Talmudic Readings by Emmanuel Levinas
On Complexity by Edgar Morin
Prophets Without Honour: Freud, Kafka, Einstein, and Their World  by Frederic V. Grunfeld (only available used)
Summerhill by A.S. Neill (got me into teaching more than 50 years ago)

The writings of André Roustang (mostly available in French)

Mythologies by Roland Barthes (was required reading in my classes)
Brecht on Theater edited by John Willett