THE FILMS
Pier Marton's "10 Favorite Films & his 50 Favorite Films"
+
His latest reviews on this website
+
A previous  list of important films used in his teaching – NOT the so-called "film classics"
+
Some pre-2008 short film reviews
---

A PARTICULAR RELATIONSHIP

True reality is always unrealistic. Franz Kafka — The essence of normalcy is the refusal of reality. Ernst Becker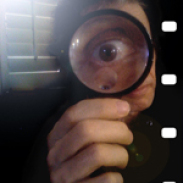 [More BIO Details Here]
Besides this website, Pier Marton has written, among others, for the influential film magazine Les Cahiers du Cinéma (Paris), the New Art Examiner (Chicago) and La Opinión (Los Angeles).
He is the son of the photographer and artist Ervin Marton who took portraits of Picasso, Chagall, Cocteau, Prévert and was friends with other Hungarian-born photographers like Brassai, André Kertész and Lucien Hervé.
Raised in Paris in the shadows of WWII – his father had fought in the French Resistance & his grand-parents had not survived that war – Pier spent many hours as a teenager at the Cinémathèque (Rue d'Ulm) — Back then for some small change, through three different films each evening, one could be exposed to early cinema gems, Brazil's nascent Cinema Novo, African Cinema or Satyajit Ray. In other words, in the course of one evening one could exit a movie theater, stunned… and wondering whether there ever was such a thing as "a normal film." —
It was also at that age that, through reading part of Zola's Les Rougon-Macquart novels  and discovering neo-realist cinema, his appreciation for documentary cinema was awakened.
In 1968, still in high-school, his father died, and very shortly thereafter, during "May 68,"  he was witnessing the bludgeoning of civilians by undercover police forces through the windows of a Parisian coffee-shop: passive viewership had made its mark.
After moving to Los Angeles, he recalls a memorable meeting when Jacques Tati came to visit the pantomime group that Marton belonged to and asked everyone to perform a generic drunkard: Tati's smart critique was far from obvious and ended up influencing much of his teaching (more about this elsewhere).
Around that time, immersing himself in the writings of Artaud and Grotowski. he ended up rehearsing the role of Dionysus in Euripides' The Bacchae for over a year with the Odyssey Theater.
Then, following undergraduate and graduate degrees from U.C.L.A.'s film school – including courses with Jean Baudrillard, Gene Youngblood and Bill Moritz, a film project with Lorival Pariz (of Antonio das Mortes fame), and a thesis project with Shirley Clarke – with the encouragement of his friend Chick Strand, Pier started teaching production through his trademark course Moving Images and Sound. Over more than thirty years, academic life took him around the country a few times: U.C.L.A., Occidental College, Minneapolis College of Art and Design, School of the Art Institute of Chicago, U.C. San Diego, California College of Arts and Crafts, Carnegie Mellon, Penn State, Washington University.
His own video work has explored self-representation, male violence, media, post-Holocaust Jewish identity, and Jewish mysticism.
He has lectured with it at New York's Museum of Modern Art, the Walker Art Center in Minneapolis, the Carnegie Museum, at Cal Arts and the Paris École des Arts Décoratifs – and, at Yad Vashem in Israel and in the U.S., on Holocaust and Film.
His work has also played at the New Museum, the Whitney, New York's Jewish Museum, the American Film Institute, the Berlin, the San Francisco and the Chicago Film Festivals, and has been on French and Spanish TV and the Learning Channel, as well as at the Paris and the Sao Paolo Biennales.
It has been reviewed in the U.S. in the New York Times, the Village Voice, Arts Magazine, and in Flash Art in Italy, and Le Monde, Libération, Art Press in Paris.
His video pieces are in the collections of the Beaubourg Museum, Paris; the Museum of Modern Art, NYC; Art Metropole Archives/National Gallery of Canada; the Institute of Contemporary Arts, Video Library, London, England; London Video Arts, London; the Long Beach Museum of Art Archives, L.B. CA, Otis Parson School of Design Library; The Kitchen Archives, NYC; the Seattle Arts Commission, Seattle, Washington; Los Angeles Contemporary Exhibitions (L.A.C.E.); Tokyo Japan Victor Corporation Archives; the Palais des Beaux Arts, Charleroi, Belgium; ArtCom/La Mamelle, San Francisco, and is distributed by Electronic Arts Intermix, NYC and by Facets Multimedia, Chicago.
The recipient of various grants, he has received two National Endowment for the Arts grants. His work is featured in two Thames and Hudson anthologies, one on video art, the other one on new media, as well as other art/video-art books.
Lately he regularly introduces films and/or contributes to the St. Louis Holocaust and Learning Center, Cinema St. Louis/St. Louis International Film Festival/Robert Classic French Film Festival, The St. Louis Jewish Film Festival. For a few years, he served on the Board of Directors of the St. Louis Film Critics Association.
Recently he has taken a special interest in three types of film: the slow ones, the films that are constructed in "non-violent" ways, and the so-called difficult films – those "that wound and stab us… that affect us like a disaster, that grieve us deeply, like the death of someone we loved more than ourselves, like being banished into forests far from everyone, like a suicide. " (from Kafka's description of the kind of books we need to read).
Besides keeping track of worthwhile films on this website, in light of his understanding of the limits of representation and the current wave of novophilia (the love of the new), he has become the "Unlearning Specialist" at the School of No Media – yes, if you ask him, he will tell you more about this puzzling activity.
---

TWO RECENT APPRECIATIONS

[Addendum: In 2014 Joshua Oppenheimer became a MacArthur Fellow and won the Venice Film Festival Grand Jury Prize with his latest film, The Look of Silence.]
From Frederick Marx, the Oscar and Emmy nominated producer/director
behind Journey From Zanskar & Hoop Dreams:
Hey Pier,
 Thanks for your kind and insightful words.
I'm a little surprised, but many people don't seem to "get" the film the way you do…
 warmly,
Frederick Marx
Director/Writer
www.warriorfilms.org
www.JourneyfromZanskar.com